Visit the exhibitions to the beat of the world's best DJs
One Friday a month, starting October 31, 2008, the Guggenheim Museum Bilbao hosts a night of music and art in collaboration with the nightclub Fever.
Visit the exhibitions from 10 p.m. to 1 a.m. to the beat of the best DJs from Spain and around the world in the Museum Atrium.
Art After Dark at the Guggenheim Museum Bilbao – don't miss out.
Limited capacity. Ages 18 and older. ID or passport required.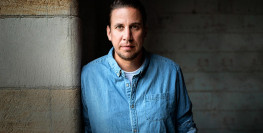 Style: Electronic music
OLIVER KOLETZKI LIVE SET
On his sixth album, The Arc of Tension, the Berlin-based DJ and producer Oliver Koletzki presents his remarkable vision of contemporary electronic music, while assuming the role of a storyteller. The Arc of Tension speaks as a singular, self-contained work, which communicates by way of its natural flow and arc of suspense.